Testimonials
We love what we do and it shows in the results and feedback.
Additional feedback can be viewed on our Facebook page, Yellow Pages and on Yelp.
Letter of Reference for Mick for Veterinarians: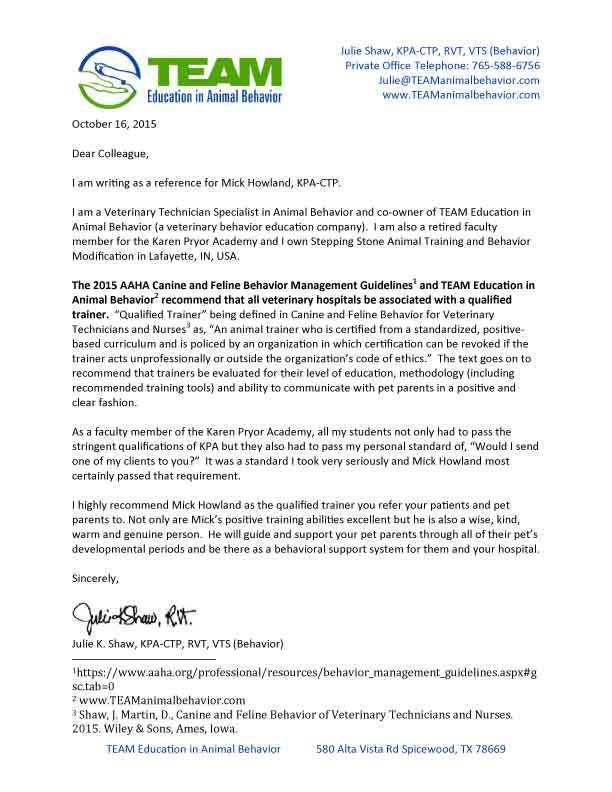 Client feedback:
Note: The following are some reviews from our many years of having provided service.

"I use this company for my 12 week old puppy. I get one or two visits a day 5 days a week. Plus I'm doing training with Mick and my puppy is learning lots. Thanks for this great service." April Woodruff Hunt, Parksville, posted November 27, 2015
________________________________


"We have been using Mick and Karin's services for over a year now, and absolutely love them! It is such a relief to know that when my boyfriend and I cannot be there for our dog, they can. Mick is so good to our girl, and knowing we have someone so reliable and trustworthy to turn to takes a huge weight off our shoulders. When we leave our extremely energetic dog with Mick and Karin, we know she is more than cared for and gets the attention and exercise she needs. I would hands down recommend your services to anyone and everyone. Thanks again for everything!" Ashley Canzi
________________________________

"It is my pleasure to recommend Mick Howland to you. Mick is a dedicated dog trainer/handler and in my experience, the welfare of the animal in his care is his first and foremost priority. He is constantly researching and training to "hone his craft" and since I have known him, has attended numerous internal and external training sessions and conferences, and has volunteered at rescues and shelters, to ensure he is up-to-date in all aspects of positive dog training and behavior." Susan Flewelling, Winnipeg, MB
________________________________
Pets Stay Home has been a godsend for my family. We love our pets, and wouldn't think of leaving them behind without caring and trustworthy care. But, we don't want to send them to a kennel or impose on family or friends to be stopping in everyday either. Karin and Mick at Pets Stay Home have been our answer. Not only do they take great care of our beloved pets, but they bring in our mail, rotate lights, and even water plants if needed. Not only are our pets cared for, but our home is safer in our absence and we have no nasty surprises when we return. We even get a report of daily events while we were gone!
I can honestly say that we wouldn't take as many vacations or have as good a time without them. Thanks! ~ Colleen ~
________________________________
Karin has been walking my dogs for 5 years. She is great! She is sensitive to my boy who has anxiety issues and must have a strict routine; yet she is firm with my girl who is sassy and bossy. She leash trained both of them and I have little issues walking them now myself. Toby waits at the window every day at noon, even if it is not a Karin day! Ellen Bromilow Thompson
________________________________
"Huge fan of Pets Stay Home! Karin keeps my feline fiends happy and healthy when we have abandoned them to go on holiday." Morva Bowman
________________________________

"I wanted to thank you for your great work. I have never hired a pet sitter before and I was a little hesitant. It turned out to be a brilliant idea though. Herkie seems in fine shape, I was treated to a little update detailing how my apartment and creatures behaved during my Christmas break, and while I was away I enjoyed piece of mind knowing that someone was checking in on my place. It was so simple too! You were worth every penny and more, that's for sure."
K. H., client of pet sitting service
________________________________
"Thanks again for making our vacation stress free!" L & M clients of Kitty Sitting
________________________________
"Karin, your care of the cats makes travelling much less stressful. Thanks." S.S. client of Kitty Visits
________________________________
"What a relief leaving the cats with someone we trust." R.L. client of Kitty Visits
___________________________
"Karin, I just wanted to send you a formal acknowledgment of the exceptional service you provided from January 25, 2006 to February 8,2006. When we returned home after our vacation, our two cats were there to greet us. They had survived without us thanks to your wonderful and thoughtful service. I wouldn't hesitate to recommend your service and I will definitely be a repeat customer." S.B., client of pet sitting service
________________________________
"We appreciate it that you have been so reliable." K.R., client of dog walking service
________________________________
"Thanks so much for all that you did for us and for buying us extra food. Thanks for coming every day to visit and play with us." Donald & Trump...the cats
________________________________

"Excellent service, professional, genuine care and concern for animals." C.W., client of pet sitting service
________________________________
"Really cares about pets. Spends extra time giving them TLC. Greatly appreciated." R.N., client of dog walking service
________________________________
"Karin, we are so very grateful for your care and attention to detail. Most of all, the cats looked so content and healthy. Many thanks from all of us." M.B. & W.I., clients of pet sitting service
________________________________

"Just wanted to say again how much easier my day is knowing that my pets and home are being so well looked after!" S.D., client of dog walking service
________________________________
"I've never used this type of service before but I would certainly recommend it - more than I expected. I was very happy with the service - and my pet was pleased as well. Thanks Karin!" C.E., client of pet sitting service
________________________________
"We are very happy with the service. Our dog was well cared for and very happy while we were away." D.S., client of pet sitting service
________________________________

"Thank you for taking good care of my cats - especially Caesar who was sick and moody! The cats look great and so does my place. Will definitely use your services again." E.M., client of pet sitting service
________________________________

"We appreciated your expertise in managing our sometimes skittish dog. It allowed us to have a worry-free trip." J.B., client of pet sitting service
________________________________
"We are very pleased with your pet sitting for our cats - less stress with the two of them." D.A., client of pet sitting service
________________________________

"It's a great feeling going away and knowing your pets & home are being cared for! "STRESS FREE" - Thanks again. We appreciate your service." K.K., client of pet sitting service
________________________________